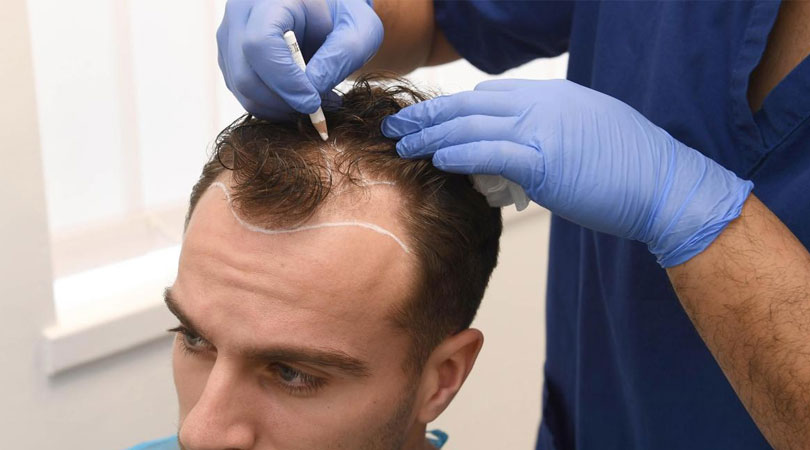 Stem Cell Hair Transplant
Stem cells are cells that can repair damaged areas in the human body by replacing the cells there and can replace any cell. These reparative cells are found in tissues and organs throughout the human body. This repair ability of stem cells, their cancer and nervous system diseases; have led to their use in situations such as organ transplantation.
Stem cell therapy has been used for vital treatments from the time it was first discovered. However, nowadays it has also been used for aesthetic purposes and stem cell hair transplantation is one of them. Stem cell hair transplantation is the process of injecting the stem cells taken from the person's own tissues into the hair follicles. This process is called "autologous micro-graft" with the terminology.
Why is Stem Cell Hair Transplantation Performed?
Stem cell injection can be applied for different purposes in the treatment of hair. This method is not only used for hair transplantation. It is also used to strengthen, repair and stop hair loss in the hair follicles in the area that has not been transplanted.
Another aim of applying stem cell therapy is to get more efficiency from hair transplantation. Revitalizing stem cells taken from the patient's own tissues activate the dead hair follicles on the scalp and the transplanted hair grows stronger and fuller. This is similar to fortifying the soil to obtain fertile land instead of a barren land. In addition, stem cell therapy can be applied after hair transplantation applications without stem cell transfer. This ensures that the previously transplanted hair becomes stronger and reproduces.
How Is Stem Cell Hair Transplantation Performed?
In the stem cell treatment, the person's own tissues are used. This process is the same in stem cell hair transplantation. The hairs behind the ears and on the back of the neck of people are genetically coded not to fall out. Tissue samples taken from non-shedding hair follicles are made suitable for stem cell application. The treatment obtained with the help of the machine used for this process is injected into the hair follicles of the person in the required quantities. Thanks to the process, the person's scalp has become efficient for hair growth and density. Then, hair transplantation is performed. The success of the stem cell hair transplant treatment can be understood within a month.
Treatment Summary
Operation Time
5 - 8 Hours
Type of Anesthesia
Local anesthesia
Time to Return to Work
Immediately
Warranty Type
Lifetime Guarantee
Accomodation
Luxury Hotel
For whom is Stem Cell Hair Transplantation Suitable?
Stem cell hair treatment can be applied to every individual, male or female, aged 20 and over, who has hair problems. This treatment is not used only for hair transplantation. The hair of people who constantly shape or dye their hair wears out over time and becomes suitable for shedding. This method is used for people who have lost their hair in this way or for various reasons, so that their hair regains its former density and strength. In addition, stem cell hair transplantation treatment is recommended for those who want to have a second hair transplant, those with insufficient donor area and women if they want to have a hair transplant. Classical hair transplantation does not give as good results in women as in men. For this reason, the stem cell method is a more efficient way for women.
What are the Advantages of Stem Cell Hair Transplantation?
The most advantageous result of stem cell hair transplantation for the person is the elimination of the lack of self-confidence arising from the appearance. Man is a social being and must have self-confidence in order to socialize. Today, unfortunately, people pays more attention to their appearance than to their health. People will feel better with their new hair and this will give him great motivation.
In fact, the advantages of stem cell hair transplant are more important than other methods. No chemicals are used during the treatment. Completely one's own tissue samples are used. Even those who have less hair in the donor area can have this procedure done. People who are injected with stem cells into their hair follicles have healthier and thicker hair, and the risk of losing this hair is low. In this treatment, substances obtained from pork products are not used. Having both hair treatment and hair transplant at the same time is an important advantage of stem cell hair transplant.
How Much Are Stem Cell Hair Transplant Prices?
Pricing in hair transplant operations depends on the number of grafts used. Grafts are structures containing hair follicles and scalp. What is meant by hair transplantation is to transplant a graft to the scalp. While 3000 graft transplants vary between 9,000 and 15,000 TL; 5000 graft transplants vary between 20,000 and 30,000 TL. The price of stem cell treatment before these procedures varies depending on the situation. Stem Cell hair transplantation price is around 40,000 TL, based on a calculation made by considering both procedures.
FAQ About Stem Cell Hair Transplant
There is no case of side effects recorded in the literature in our country and in international standards.
While stem cell supply from the patient and subsequent transplantation can be handled in short-term sessions. There is a 2-3 week period between these two processes. In this process, stem hair cells taken from the person are reproduced. After an average of one month of transplantation, it is expected that the hair will regain its natural appearance within one year.
While the improvement is detected within 1 month after the retransplantation of the stem cells taken from the scalp to the empty areas; It takes one year for all the hair to reach its natural appearance.
The aim of the application of Stem Cell hair transplantation is to get closer to obtaining a definitive result. Hair follicles that have become productive again with stem cell treatment are very unlikely to grow hair.
During stem cell hair transplantation, local anesthesia is applied to the areas where stem cells are provided and stem cells are transplanted. Therefore, people do not feel anything and the post-treatment process is not annoying either.
Our experts answer your questions
Call us or fill out the form below and we will contact you as soon as possible.
Ixora Life Clinic
Contact us
Ixora Life Clinic
Start Creating Your Treatment Plan!